The Infinity Cycle: A Process for Socio-Spiritual Transformation
The Infinity Cycle draws upon Ashe Van Steenwyk's years as an activist, minister, and a spiritual director—as well as the fruit of years of engaged research on the relationship between contemplative spirituality and social action.
The Infinity Cycle helps participants confront the toxic myths and ideas that have taken root in their own consciousness, as well as confront the way those same myths and ideas have become embodied in oppressive societal structures. And, even more importantly, this process is ultimately about finding healing and liberation in the midst of this work.
There are four primary movements in the process: attending, naming, unveiling, and integrating.
It is called "the Infinity Cycle" not only because the flow between inner and outer work is expressed visually as an infinity symbol, but to demonstrate that this movement from inner to outer is continuous. Our inner work continually reflects outward. And the outer work continually shapes our own consciousness.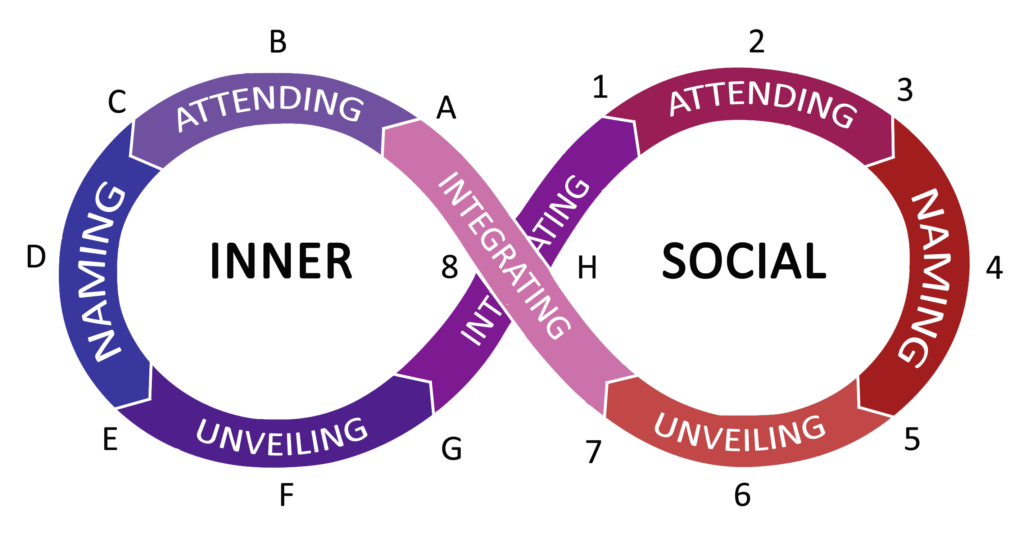 THE INNER CYCLE
Rest. Trust that the Spirit is at work in you and the world.
Give compassionate attention to your inner conflicts and struggles.
Name a harmful belief you've noticed within you.
Articulate the myths that conceal, obscure, or legitimize that belief.
Focus on a way that belief is concretely expressed in your life.
Plan an action that directly unveils or confronts that expressed belief.
Engage in action, preferably with the support of others.
Consider the implications of your action.
THE SOCIAL CYCLE
Rest. Trust that the Spirit is at work in you and the world.
Give compassionate attention to those suffering or struggling.
Name an injustice you've noticed.
Articulate the myths that conceal, obscure, or legitimize that injustice.
Focus on a concrete expression of that injustice.
Plan an action that unveils or confronts that injustice.
Engage in action, preferably collective action.
Explore the implications and consequences of your action.
Begin again.
How to Engage with the Infinity Cycle
We are able to adapt this process for individual groups. However, we typically present it to participants in three parts:
Part One, the Inner Cycle: We offer a weekend retreat to groups of 8-24. In the retreat, participants will learn about the ways we've internalized imperial myths and how that constrains our own deep humanity. The retreats draws upon contemplative practices, but through the lens of internalized injustice. By articulating and confronting these myths, we begin to experience inner healing. Participants cannot come by themselves, since the Social Cycle requires at least two people working collaboratively.
Part Two, the Outer Cycle: We will schedule a series of eight meetings, either in person or via Zoom or Skype to work through the Social Cycle. In this process, the contemplative gaze is turned outward toward society. As we recognize that the same myths that ensnare our own imaginations are also active through unjust social structures, we can begin to confront those structures as part of our own work of liberation. This is, fundamentally, a prophetic task.
Part Three, Ongoing Practice: Participants will then continue the cycle as they see fit. We will equip them with resources for this ongoing work and will be available for additional consultation.
Some participants who have worked through this process may wish to facilitate this process themselves. We are working on a training program to help with this, since group facilitation can be very difficult, especially in contexts where people are doing deep healing and engaging in prophetic action. Facilitators will learn more about the theological, spiritual, and pedagogical assumptions behind the Infinity Process, as well as receive training in facilitating contemplative practice and collaborative direct action.
If you'd like to invite us to present this process to your group, contact us.