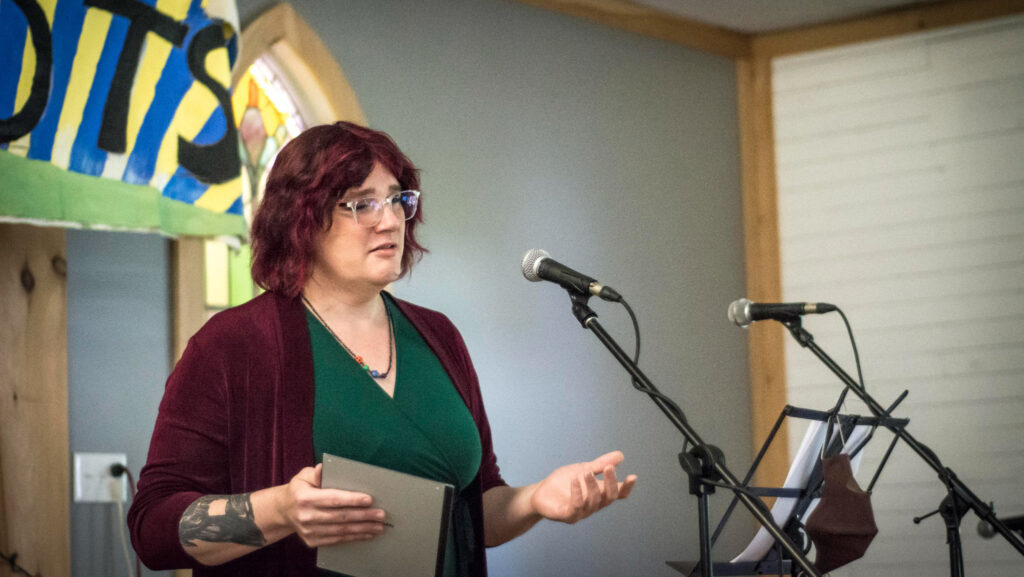 Our Executive Director draws from a broad base of experience, education, and training in the intersection of contemplative spirituality and activism.
Ashe has presented throughout North America on a variety of topics, in a variety of modalities, including sermons, lectures, workshops, and presentations. She has taught a variety of original courses, including custom courses developed in collaboration with host organizations. She is also a skilled group facilitator, and retreat leader.
Here are some of the ways she can support your group:
Ashe is comfortable preaching from the lectionary, often bringing her unique blend of relaxed provocation, casual intellect, and wit. Through her expertise is primarily within the intersection of spirituality and political theology, Ashe has an MDiv from Bethel Theological Seminary, studied Spiritual Direction at St. Catherine University, and is completing her D.Min at United Theological Seminary. When she wanders into heresy or defies scripture, it is intentional.

She can also speak topically. See the tab below for a sense of the types of topics Ashe usually explores.
Here are some of the themes/topics Ashe has explored as a guest speaker/presenter/teacher. These could be adapted from everything to a short talk to multi-hour workshops. Perhaps even as full courses.

· The Relationship Between Spirituality and Social Justice
· The Stories of Tricksters and Holy Fools (and why they matter today)
· The Promise and Peril of Contemplative Spirituality
· The Need for Prophets (Contemplation Turned Outward)
· Is Jesus Queer?
· Jesus and the Way of Compassion (solidarity not charity)
· Jesus and the Way of Resistance (How did Jesus confront oppression?)
· The Practice and Posture of Spiritual Discernment (why the most important spiritual practice is the most neglected)
· Hope in a Time of Despair
· Radical Grace (Creating a Shared Politics and Economics of Grace)
· Rejecting Authoritarian Spirituality
· Tending to Sacred Desire (The Importance of Longing in Spirituality)
· The Spirit Subverts Wherever She Blows (Welcoming the Chaos of the Spirit)
· Loving Jesus, Hating Christian Supremacy
· Was Jesus and Anarchist?

Organizational Consultation / Group Facilitation
Ashe's particular strength in working as a group facilitator is in discernment work. For Ashe, discernment isn't about problem solving as much as it is in recognizing the unique way a group experiences and embodies the Spirit together and honestly naming the forces and habits that diminish and thwart the work of the Spirit in that group.

Liturgical Direct Action Training
Blurring the line between direct action and public worship, Liturgical Direct Action brings the examples of Jesus and the Hebrew prophets into creative dialog with the Catholic Worker movement, the Plowshares Movement, and Guerrilla Theater.

The liturgical calendar provides opportunities for us to take our most sacred observances into the streets so that we may bear witness to the Spirit's presence among the oppressed as we speak truth to Power. Visit our Liturgical Direct Action page to find out more.
As a retreat leader, Ashe brings a unique understanding of the way social systems shape our consciousness. Therefore, her approach to contemplative retreats always involves engaging the ways we "internalize" toxic myths.

Ashe is happy to work with the themes or issues facing your community. However, she has spent years researching, developing, and using a socio-spiritual discernment model called the "Infinity Process" that can work well in retreat settings.
Ashe would love to work with your org to develop custom coursework if she has the time and capacity. Here are examples of courses Ashe has taught or is currently developing. Most of these are graduate level but could be adapted for broader accessibility.

· A History of Radical Christianity
· The Practice and Posture of Spiritual Discernment
· Spirituality and Social Systems
· Socio-Political Discernment
· Queer(ing) Christianity
· An Introduction to Christian Mysticism
· The Spirituality of Empire
· Liberation Spirituality
REQUEST FORM